The top four scuba diving spots in Egypt's Red Sea: think of Egypt and you'll probably conjure up images of immense, stalwart pyramids and sand-strewn ruins, frenetic city streets and bustling bazaars, and elegant sailboats plying the waters of the Nile—the go-to spots for many luxury Egypt tours. But if you're an active adventurer or a fan of exhilarating water sports, you might know something about Egypt that most tourists don't: the Land of the Pharaohs is also world-famous for its underwater escapades.
The enchanting Egyptian Red Sea, gracing around 1,000 miles of idyllic coastline along eastern Egypt and the Sinai peninsula, is an international hotspot for seaborne exploration, drawing water-baby novices and veteran divers alike for scuba and snorkeling excursions in its pristine waters. Whichever camp you fall into, we want to help you make a splash on your guided tour of Egypt. From explorable shipwrecks off the coast at Sharm El Sheikh to stunning coral reefs tucked away in the Gulf of Aqaba, let's take a look at the best diving spots in Egypt and its the Red Sea. Check out our guide for best luxury hotels in the Red Sea here.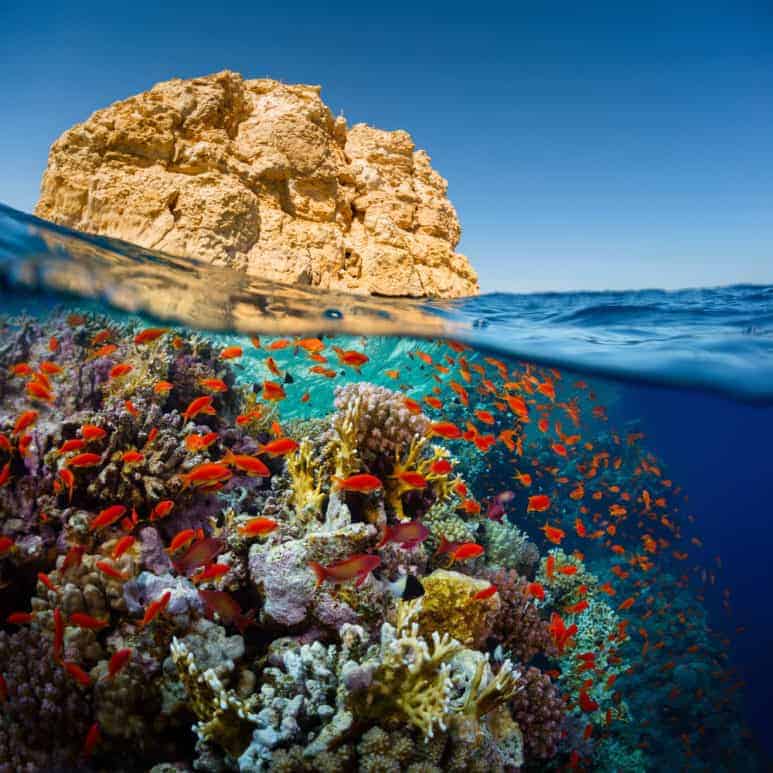 Hurghada
Trek northeast across the open desert from Luxor and the rolling dunes will carry you straight to the shore of the Red Sea—and right into the sunny resort town of Hurghada. Almost unrecognizable as the small fishing village of its not-far-gone yesteryear, Hurghada has flourished as a diving destination in the last few decades and remains a favorite go-to for scuba explorers traveling on Egypt tour packages.
Though it was founded over a century ago, Hurghada is one of the best scuba diving spots in Egypt lived a relatively uneventful life as a small coastal village until the 1980s, when its prime location along the Red Sea began to garner attention from European and Russian tourists. Hotels, resorts, and nightlife entertainment all followed in suit, turning the modest village into the major holiday destination that it is today.
Its proximity to Luxor was then and still is a consistently exploited advantage. If you're looking to tack on a little scuba time to your guided tour of Egypt, Hurghada is the perfect place to make that happen. You can spend your morning snorkeling through colorful coral reefs and your afternoon strolling through the columned hypostyle hall at Karnak Temple—or touring the storied tombs of the Valley of the Kings and Valley of the Queens in the West Bank of Luxor.
Hurghada's reliably tropical climate and year-round abundance of sunshine all but guarantee ideal vacation conditions year-round and make for the perfect excuse to spend some time cooling off in the refreshing waters of the Red Sea. And though other outdoor activities like quad-biking and wind surfing are exciting diversions in Hurghada, it's the world-class scuba diving and snorkeling that most people are here for. Check out our guide for the best time to visit Egypt here.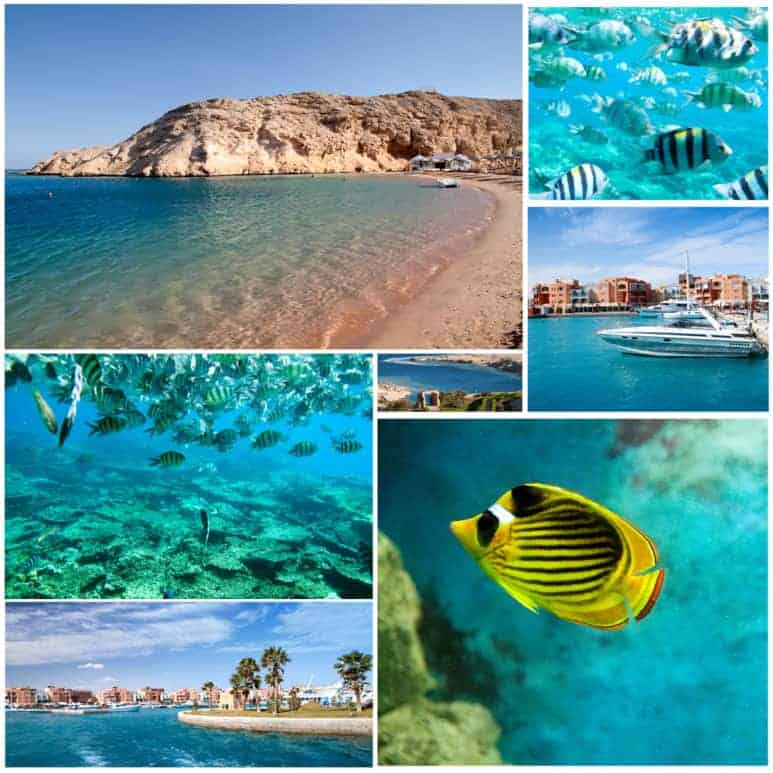 Just about anything you could want from an aquatic adventure can be experienced within a short boat ride of Hurghada's beautiful shore. Dive down around violet columns of coral next to the island of Umm Qamar, and float over a seafloor shipwreck alongside glassfish and silvery barracuda. Not even a mile offshore, the islands of Giftun make for a splendid outpost—set up for sunning on the many white-sand beaches, snorkel off the beach to any of the surrounding formations of hard and soft coral, or search the depths for pelagic archways and cavelets teeming with colorful marine life. Just a little further south, swim the waters of Gota Abu Ramada, aptly nicknamed "The Aquarium"—crystal clear conditions and shallows depths chockful of parrotfish and blackspotted sweetlips (with the occasional octopus) make for stunning underwater photography opportunities set against multi-hued coral backdrops. And for a scuba survey of sunken shipwrecks, there are few better places than Abu Nuhas, where the rusted hulls of seven derelict crafts lay silently on the seabed—including a British steam ship, the Carnatic, dating to 1869.
Sharm El Sheikh
Elevated on a rocky headland at the southern tip of the Sinai Peninsula, the Red Sea resort town of Sharm El Sheikh is another top scuba diving spot in Egypt gazes over the Tiran Islands and the eponymous Straits of Tiran into the heart of the Red Sea. One could hardly pick a more strategic vantage point of the surrounding important waterways—but until this insight was taken advantage of in the middle of the 20th century, the quaint village was little more than an itinerant fishermen's holdover. Dynamic political scenarios brought military drama to the area in the 1950s and 1960s, as the key locale changed hands between Egypt and Israel—swapping ownership again in the 1980s. All the while, the beginnings of tourist attentions in the area started to pick up, and the "Bay of the Sheikh" began to make a name for itself in travel and trade.
Leaving its military and trading port history behind in the 1980s and 1990s, Sharm el Sheikh fully embraced its holiday destination potential, ramping up from a humble trio of resorts in 1982 (when Egypt regained steady control over the city) to over 90 by the end of the century. While some political influence remains here—it's often called the "City of Peace" for its frequent hosting of international peace talks and Arab League meetings—most talk of 'Sharm' (as the locals refer to it) nowadays is between those seeking a vacation in the Sinai sun and the avid scuba divers exploring the fantastic aquatic gardens all around.
You've got your watery work cut out for you as a scuba diver in Sharm El Sheikh—dive sites number a few dozen in the area, with everything from neon-colored coral reefs to starfish-studded cliff faces and slumbering shipwrecks to explore. Take a trip out to Ras Mohammed National Park at the very tip of the Sinai to see some of the more than 200 species of hard and soft coral at Yolanda Reef—or swim with the slack-jawed denizens at the aptly-named Shark Reef. Sink to the seabed at Ras Mohammed to witness the famous wreck of the SS Thistlegorm, a British Navy vessel sunk with much of its cache intact, including motorcycles and a pair of steam locomotives, or venture further offshore to the SS Dunraven—a less-touristed wreck site where most of your companions will be moray eels and Napoleon fish.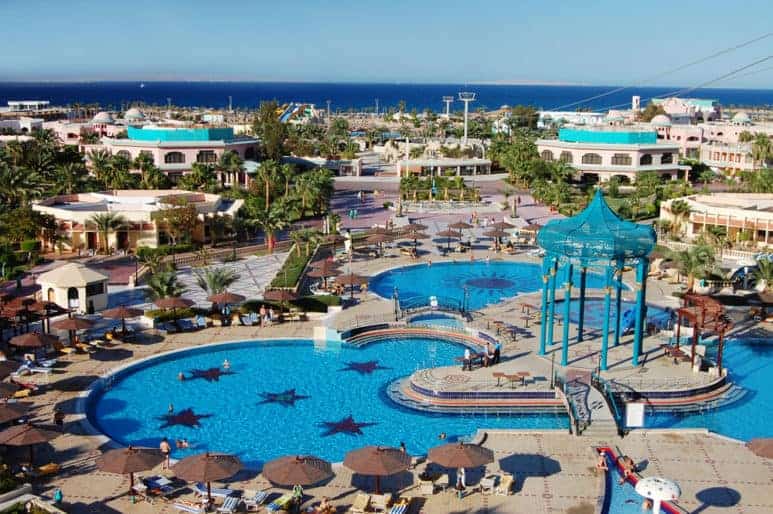 Veteran divers will delight in the treasures found in the Tiran reefs, named for the 19th-century British cartographers Thomas, Gordon, Woodhouse, and Jackson. Strong currents and sheer drop-offs make a fine home for stunning walls of fire and whip coral, swarming schools of jackfish, and the opportune octopus or manta ray. Wherever you dive in Sharm El Sheikh, keep an eye out year-round for dolphins—summer months bring rarer sightings of green and hawksbill turtles and lumbering whale sharks.
Marsa Alam
Though the rest of the world is fast catching on to what globe-traveling divers already know about Marsa Alam, the town has, for the most part so far, retained its low-key charm. Marsa Alam, the top scuba diving spot in Egypt is located about 747 km from Cairo and 370 km from Aswan. Areas up and down the shoreline here have begun to resemble the bigger resort cities like Sharm el Sheikh and cater to more tourists on Egypt vacation packages, but the soul of the small city still belongs to the independent and dedicated diver.
It doesn't hurt that the climate and water conditions are somehow even better than those to be found at holiday-perfect locales like Hurghada—pleasantly toasty daytime temps and warm water conditions year-round mean you can scuba to your heart's content. And with a number of notable dive sites just nearby on Egypt's southeast coastline, you'll have no shortage of marine outing options.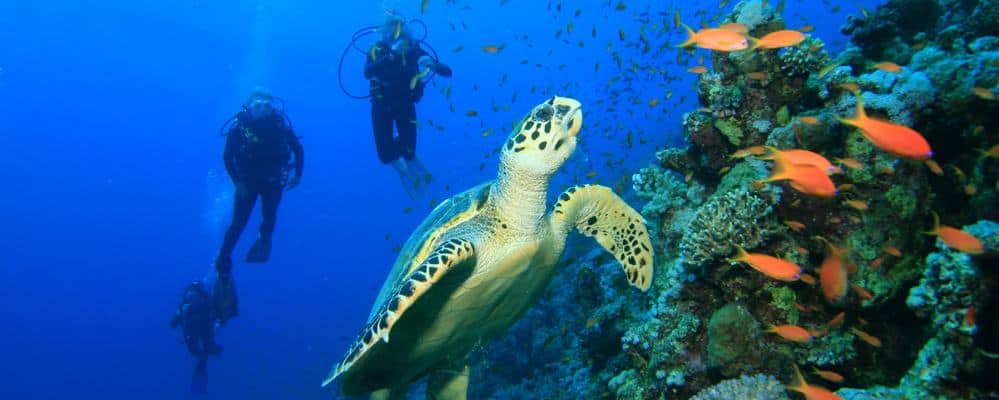 For a relaxing opener, walk the white-sand beaches of Abu Dabbab lagoon in search of seasonally nesting turtles—then don mask and fins to snorkel out among the manatee-like dugongs and a painter's palette seafloor of colorful coral. The Sha'ab Samadai reef is well regarded for its crystal-clear waters and prolific fish population, but most divers who make the visit here are hoping to catch a show of the rare and acrobatic spinner dolphins that frequent the area. The steep-sided coral walls and forceful currents of dive sites like Sataya, Rocky Island, and Elphinstone make for challenging swims suitable for only experienced divers, but also mean perfect habitats for brilliant soft corals and elusive sharks like hammerheads and oceanic white-tips. But inexperienced divers needn't be left out of the fun in Marsa Alam—the wreck of the Hamada is an excellent diving location, and the ship and its present-day crew of flamboyant lionfish and gobies lie in just 40 feet of calm water.
Dahab
If the sound of a more laid-back locale like Marsa Alam rings your diving bell, then the scene around Dahab might just be music to your ears. Once a sleepy and solitary Bedouin fishing village just up the eastern Sinai coast from Sharm El Sheikh, Dahab's present-day culture is the result of wave after wave of diverse demographics washing up on its shores, and that's why it has been one of the top scuba diving spots in Egypt for a while now. Bedouin families provide most of the historic heritage of the settlement before the mid-20th century, and the village changed administrative and cultural hands like many Sinai spots in the 1960s. The 1970s brought Israeli soldiers to the beach town, the next decade brought a counter-culture crowd hiding out from the modern world, and the 1990s rang in an era of thrill-seeking outdoor enthusiasts—add a healthy mixture of international ex-pats who wandered into this mountain-framed paradise and never mustered the will to leave, mix in a thoroughly welcoming homespun vibe, and you've got Dahab.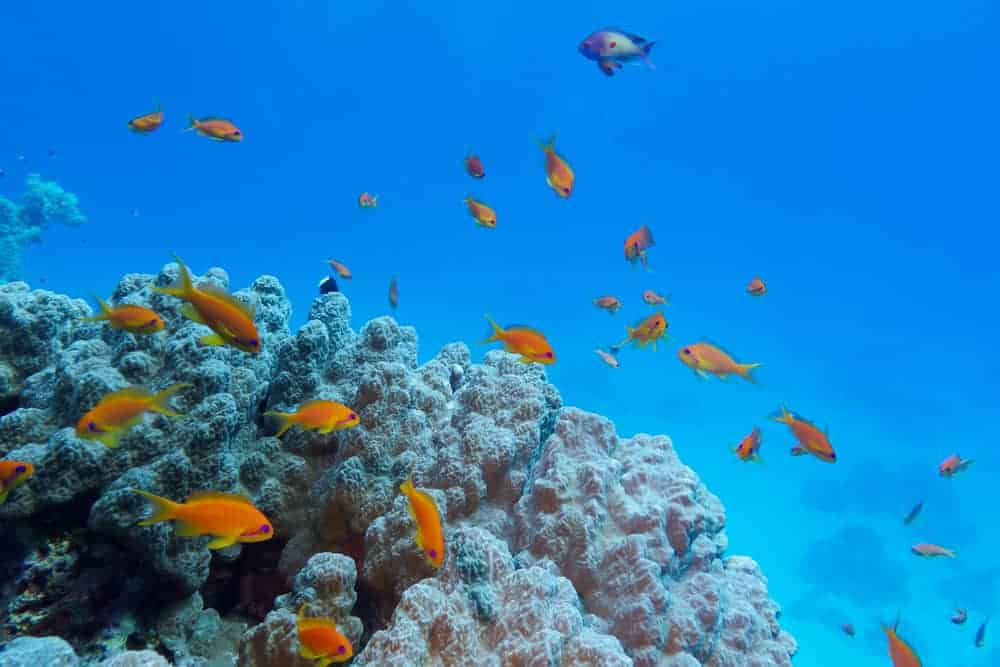 Not that developers haven't taken note of the serious market for scuba enthusiasts (not to mention windsurfers and rock climbers) and luxury vacationers—there are fancier resorts and creature-comfort hotels here for travelers on Egypt luxury tour packages. It's just that they never quite took hold of the culture here—Dahab remains a prime destination for a more independent traveler looking for a getaway. Luckily, this is perhaps the most inexpensive scuba spot on all of the Red Sea, which is a good thing considering how much time you'll want to spend in the water in Dahab.
Just north of town lies the Ras Abu Gallum national park, a natural protectorate sporting a handful of low-trafficked and absolutely pristine dive sites right off the coast. Perfect for beginners and a quieter retreat for seasoned divers, the shallower sections of the dives showcase blue-spotted ribbontail rays, curious pufferfish, and triggerfish hiding out amongst sculpturesque outcroppings of coral. For more real sculpture right in town proper, take the plunge at the Lighthouse to see a surreal underwater elephant—constructed with environmentally friendly materials intended to promote coral growth, the patchwork pachyderm is accompanied by several other pieces (a statue of Horus among them) that amount to a scuba-only underwater museum.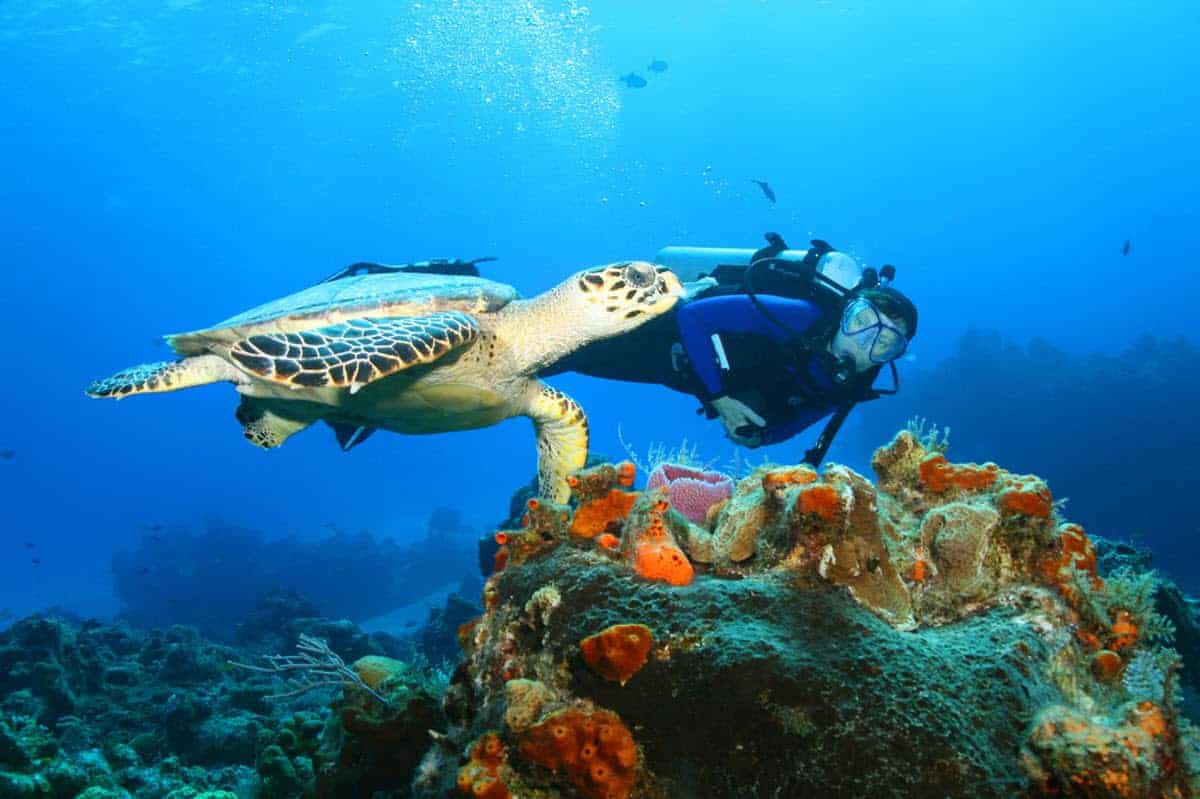 The chimney-like El Bells and the sun-speckled run of the Canyon are well-attested diving routes also easily accessible from town, the former offering a coral-lined double-wall dive down to 80 feet and the latter boasting a spectacular coral dome. The Bells is also notable as the entrance to the notorious Blue Hole—a famed submarine sinkhole with an infamous reputation as the world's deadliest diving spot. An otherwise-safe diving arena of calm waters, colorful reef fish, and gorgeous coral, the Blue Hole's epithet is due to a fate-tempting feature called the Arch: a deceptively challenging passageway located well below recreational depths at over 180 feet below sea level, and a siren's call only to a subset of specialized divers. While you're encouraged to blow bubbles around the beautiful, shallow coral saddle of the Blue Hole, its depths are perhaps best explored by way of tableside stories—say, over a cup of Bedouin tea back on dry land in easy-going downtown Dahab.